2016 Summer Academy in Dance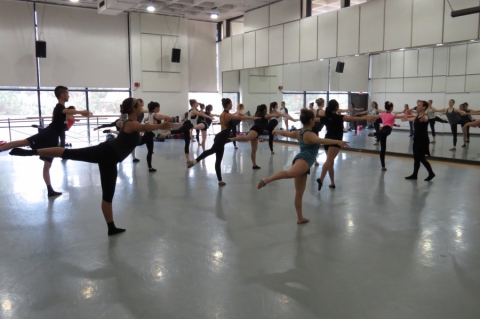 The Summer Academies in dance intensive includes Ballet, Modern, Jazz and Hip-Hop technique, Pilates, Dance Conditioning and Audition Prep. Again this year we are giving the dancers the opportunity to explore what we call Active Space, which asks that they choreograph and improvise using our Motion/Performance Capture technology.
Dancers will perhaps get to work with renowned UC Irvine Dance faculty including Lisa Naugle, Tong Wang, John Crawford and others, as well as with our stellar MFA dancers who come to us from thriving professional dance careers. 
Dancers should be talented, motivated, advanced dancers. Intermediate dancers may be considered should they be willing to work at an advanced level. This year's registration process will require submission of an audition video and personal statement upon registration. 
Auditions and Personal Statements
Audition videos must be no more than three (3) minutes in length and must demonstrate your ability in at least one of the following styles - Ballet, Jazz, Modern. These videos may be uploaded to a secure video sharing site and then you may provide us the link to your video. Personal Statements must be no more than one (1) page in length and should speak to your goals as a dancer, what you hope to gain from this intensive, why dance is important to you etc. These statements may be pasted into the text box provided on the registration page. Materials will be reviewed, following which we will confirm your enrollment.
For more information and to register click on the link below:
http://outreach.arts.uci.edu/summer-academies