UCI Symphony Orchestra: Guarding the Future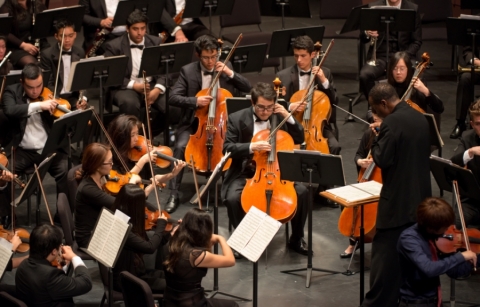 UCI Symphony Orchestra
Guarding the Future
Dr. Stephen Tucker, Conductor
Janet Hopkins, Guest Soloist
Saturday, May 21, 2016
8:00 pm
Irvine Barclay Theatre*
7:00 pm Pre-Concert Conversation
Program will feature Kevin Scott's A Point Served (In remembrance Arthur Ashe - World Premiere), Richard Wagner's Wesendonck Lieder featuring soprano Janet Hopkins, and Johannes Brahms' Symphony No. 4, in E minor.
Janet Hopkins' Masterclass
Monday, May 16, 2016
1:00 - 2:50 pm
Winifred Smith Hall
UCI Vocal Arts students perform.
(The Masterclass is free and open to the public.)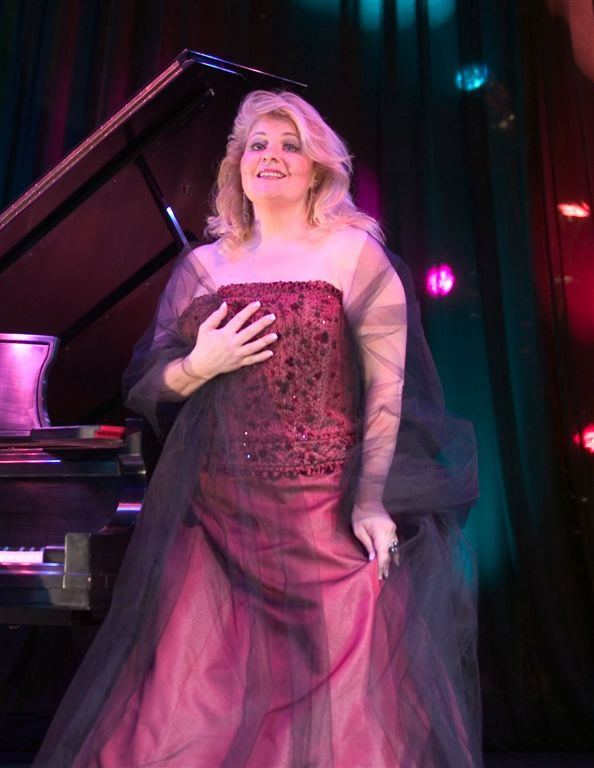 Tickets:
General $16
Seniors, Groups 10+, UCI Faculty & Staff $15
UCI Students & Children under 17 $6
*Tickets purchased at the Barclay Box Office will incur a $1 fee per ticket.
Ticketholders are invited to join Maestro Tucker for a pre-concert conversation starting at 7:00 pm in the theatre. 
READ THE PRESS RELEASE
More on our special guest artist...
JANET HOPKINS
Mezzo Soprano
American dramatic mezzo-soprano Janet Hopkins is known for her powerful, rich voice and complete vocal mastery.  Her most recent performance, Freedom in the 21st Century in South Carolina in May, was a premiere piece that garnered critical acclaim.  Miss Hopkins' upcoming engagements include the Beethoven's Mass in C in South Carolina in June, Verdi Requiems at the Kennedy Center in October 2010, Minnesota and Tulsa in 2011, and Mahler's Lieder Eines Fahrenden Gesellen in November.
Recently Miss Hopkins has performed Amahl and the Night Visitors (Coachella Valley Symphony), El amor Brujo (South Carolina Philharmonic), Alexander Nevski ( Western Michigan Philharmonic),  Beethoven's Ninth Symphony (Bowling Green Symphony Orchestra, Kentucky), Rückert-Lieder (Las Vegas Music Festival) as well as concerts with the Redlands Chamber Society, Trinity Church in NYC, and other recital venues.  
Miss Hopkins is a 16 year veteran of the New York Metropolitan Opera. In 2005, she performed in Die Walküre, Der Rosenkavalier and Katya Kabanova. 2006 saw her thrill audiences once again in Die Walküre as well as a host of Met performances in Japan.  In 2004 she sang Die Walküre and Die Frau ohne Schatten. She also recorded Ulysses Kay's "Three Pieces after Blake" for soprano and orchestra for Albany Records and performed Amahl and the Night Visitors in Palm Springs, California.
In most recent seasons (as a soprano) at The Met, she has sung Overseer in Elektra, the Mayor's wife in Jenufa, Der Rosenkavalier, Die Frau ohne Schatten, Il Barbiere di Siviglia, War and Peace, Les Mamelles de Tiresias, L'Enfant et les Sortileges, Doktor Faustus and The Makropulos Case.  She also toured with The Met in Japan in Der Rosenkavalier and Rigoletto. Miss Hopkins performed the Schubert Mass in G in Carnegie Hall.  In the 1999/2000 season at The Met she sang Die Walküre, Lady Macbeth of Mtsensk, Il Barbiere di Siviglia, and Der Rosenkavalier. In January 1997, she debuted as Marianne in Der Rosenkavalier with the Dallas Opera, returned to The Met for The Bartered Bride and The Ring. The met engagements were followed by performances of the Wesendonck Lieder with the Bronx Symphony Orchestra and Santuzza in Cavalleria Rusticana. At The Met 1995/1996 season she sang in The Ring, and in a new production of The Makropulos Case.  The 1997/1998 Met season found her in performances of  Elektra, The Makropulos Case, and Khovanschina.
Miss Hopkins debuted as a soprano at The New York Metropolitan Opera during the 1991-1992 season in The Ghost of Versailles, returning during the next seasons for Siegrune in Die Walküre, Parsifal and Elektra.  While on tour with The Met in Japan, the soprano sang a series of solo recitals in Tokyo, garnering extensive critical acclaim. Miss Hopkins was awarded grants and prizes from The Luciano Pavarotti International Voice Competition, the American Opera Auditions and the Wagner Society Grant.
Janet Hopkins revolutionized the wine and music worlds with her introduction of ARIA in November of 2007.  ARIA, a first-of-its-kind music and fine wine project, garnered rave reviews from The New York Times and USA Today.  Miss Hopkins personally blended her own red wine. She recorded a CD of well known classical Italian love songs at historic Capitol Records in Hollywood. The limited edition set known as ARIA was an immediate hit.
As co-host of "EverydayOpera," the popular internet video program which airs each Friday at 2pm EST, Miss Hopkins brings a unique perspective to the show.  Her blend of formal training and extensive performing background make her an ideal opera and classical music resource. The hour long program offers interviews with opera companies from around the globe along with features on travel/food/wine. "EverydayOpera" was created with the chief intent of promoting opera and classical music through education and information. The goal is to educate the listener and encourage them to learn more and become involved with the Arts in their own community.