Arts Fest Celebrates Summer Academies in the Arts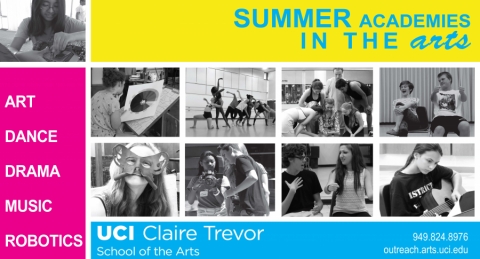 Arts Fest Celebrates Summer Academies in the Arts
CHAMBER MUSIC
COMPUTER MUSIC
DANCE
DIGITAL FILMMAKING
DRAWING/PAINTING
EXPRESSIVE ROBOTICS
Friday, July 17, 2015
Claire Trevor School of The Arts, UC Irvine
Join us as we culminate our July Summer Academies in the Arts!
Celebrate your students, enjoy their artwork, support the hard work of the other classes!
Schedule:
11am - Computer Music Concert- CAC Studio
12pm - Drawing/Painting Exhibition - ART 260/265
12pm - Reception - Arts Plaza
12:30pm - Digital Filmmaking Screening - WSH
2:30pm - Expressive Robotics Showing - Beall
5pm - Conservatory Dance Showcase - CTT
6pm - Reception - Arts Plaza
7pm - Chamber Music Festival Concert - WSH
Come for your concert, exhibition, screening or showcase and stay to see the other culminating activities!
Visit our website for more information.