The Orange County Mini Maker Faire Is Back!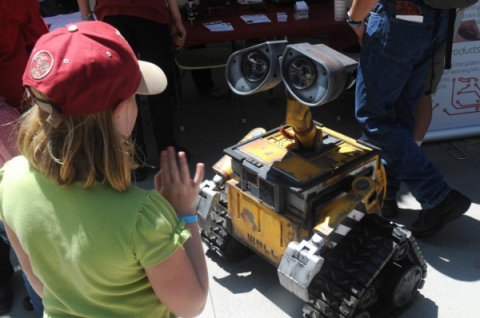 THE ORANGE COUNTY MINI MAKER FAIRE IS BACK AND ADVANCE TICKETS ARE ON SALE NOW
IRVINE, Calif. (March 31, 2015) – UC Irvine's Beall Center for Art + Technology and Blackstone LaunchPad announce the 2015 Orange County Mini Maker Faire (OCMMF), hosted by Irvine Valley College, on Sat., May 9, 10:00 a.m. to 5:00 p.m. The Beall Center at UC Irvine's Claire Trevor School of the Arts supported and hosted OCMMF at the UC Irvine campus Arts Plaza in 2012 and 2013.  As the Faire has grown substantially in attendance and Maker participation, it is with much appreciation and excitement to have the faire hosted this year by Irvine Valley College.
The Mini Maker Faire showcases projects, inventions, and creations of local Makers, Crafters, Do-it-Yourselfers, and Inventors. Maker Faire has been called the "Greatest Show (and Tell) on Earth." It is a family-friendly showcase of invention, creativity and resourcefulness, and a celebration of the "Maker" movement.  Makers range from tech enthusiasts to crafters, educators, tinkerers, hobbyists, engineers, artists, science clubs, students, authors, and commercial exhibitors. They are of all ages and backgrounds.
Exhibitors have the opportunity to show what they are making, how they make it, and share what they are learning. The exhibitors at the Orange County Mini Maker Faire offer a wide range of specialties. This year includes Chiptune electronic music making; Techschool, teaching kids how to use Scratch programming; Tinker the Robot; Makersville, LEGO play and contests; SkatE Pods electric skateboard/scooter; Arduino workshops; Steampunk Encampment; Magic and Juggling; and more. The Fiber Arts space allows participants to use their creativity to refashion clothing using sewing machines, embroidery, LED lights, Glue-guns, staples, and pins. Fashion creations may be presented together on the OCMMF main stage, along with other performances and demonstrations. Orange County has many Makers and the 2015 OCMMF list of participating Makers is increasing every day. 
Advance tickets are on sale now through May 8, 2015.  Advance tickets are $10 for adult; $6.00 for children 16 years and younger; and free for children under two. Tickets can be purchased online at http://ocminimakerfaire.wordpress.com.  Food and beverages will be available for purchase.
100% of your ticket supports the OC Mini Maker Faire which is organized and run by a dedicated crew of volunteers.  Please invite your friends, neighbors, and family to come see the plethora of hands-on fun.  This event is not just for the young or even the young at heart; this event has something engaging for everyone.
Getting to Irvine Valley College: Carpooling, biking and public transportation are encouraged.  Public parking is available for a flat rate of $5 for the day.  For driving directions and additional information, visit http://ocminimakerfaire.wordpress.com/ways-of-getting-there.
Want to participate as a Maker? Consider answering the Call for Makers. OCMMF is looking for Makers who make anything and everything:  robots, cosplay, homegrown goodness, kinetic sculptures, smart backpacks, Arduino run wonderments, performance artists, musicians and vocalist... if you can create it, we want to see it!  If you can let others play with it, show others how to make it, or have people experience it - then we want you even more. Makers also have an opportunity to participate as speakers or performers on the main stage. To participate as a Maker go to: https://docs.google.com/forms/d/1OP3X94GsI7LzZurHlT-dWtHQVeWCbyQE-7BMDpi....
Want to Volunteer?  OCMMF needs you!  Join the dedicated crew of Volunteers – there's a lot to do before, during and after the show. You will meet interesting people, and a four-hour shift will get you free admission for the day. To sign-up as a volunteer go to: http://www.volunteerspot.com/login/entry/8858409220101
OCMMF sponsorship opportunities are still available for businesses and individuals.  To become a sponsor of the OCMMF go to: https://ocminimakerfaire.wordpress.com/sponsors/. 
UC Irvine's Beall Center for Art + Technology (http://beallcenter.uci.edu/) and Blackstone LaunchPad (http://blackstonelaunchpad.uci.edu/), Matterhackers (https://www.matterhackers.com/), OC STEM Initiative (http://ocstem.org/), and University Realty (http://www.URirvine.com/) are excited to partner with and support this year's OC Mini Maker Faire.  To learn why companies become maker Faire sponsors, check-out http://vimeo.com/make/makerfairesponsors.
However you decide to participate, the OC Mini Maker Faire team is sure you'll have an amazing time!
See you at the 2015 OC Mini Maker Faire!
* * * * *
Video of 2012 OCMMF:  https://www.youtube.com/watch?v=8ivEXRfEzHs
Slideshow of 2013 OCMMF:  https://www.youtube.com/watch?v=Z5pYJgHGKiM
Use the following links to access the corresponding files:
/syoungha/OCMMF 2013 Images: https://webfiles.uci.edu/syoungha/OCMMF%202013%20Images
About the Beall Center for Art + Technology
The Beall Center is an exhibition and research center located on the campus of the University of California, Irvine. Since its opening in 2000, the Beall Center's exhibitions, research, and public programs have promoted new forms of creation and expression. For artists, the Beall Center serves as a proving ground — a place between the artist's studio and the art museum — and allows them to work with new technologies in their early stages of development. For visitors, the Beall Center serves as a window to the most imaginative and creative innovations in the visual arts occurring anywhere. The Beall Center promotes new forms of creative expression by: exhibiting art that uses different forms of science and technology to engage the senses; building innovative scholarly relationships and community collaborations between artists, scientists and technologists; encouraging research and development of art forms that can affect the future; and reintroducing artistic and creative thinking into STEAM (Science, Technology, Engineering, Arts, and Math) integrated learning in K-12 to Higher Education.
MEDIA CONTACT:  Samantha Haug, (949) 824-6206 syoungha@uci.edu