"What Cheer!" : UCI Choir Concert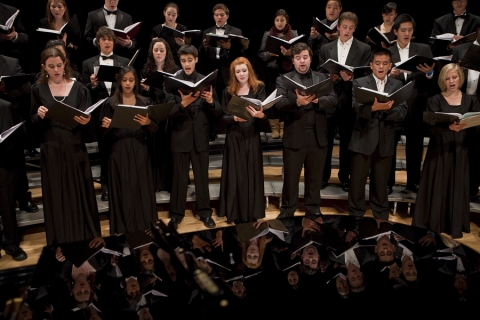 "What Cheer!" : UCI Choir Concert
December 9, 2014
"What Cheer!" A Choral concert presented by the UCI Chamber Singers on Tuesday, December 9, 8pm, in Winifred Smith Hall (WSH) The concert will include works by Poulenc, Walton, and Vaughan Williams, as well as excerpts from Mendelssohn's oratorio, Christus, and three pieces by recently deceased composer, Stephen Paulus, which will feature accompaniment by fellow music majors on harp and oboe. Free admission.
Public welcome.
Lauren Buckley Schaer, conductor
Adela Kwan, accompanist
Taylor Censoprano, harp
Jeremy Aquino, oboe
Winifred Smith Hall           8:00 pm
Free Admission.  Open to the Public.
Dates:
December 9, 2014 - 8:00 pm