Kojiro Umezaki, member of the Silk Road Ensemble, featured in a new documentary being released nationwide
Kojiro Umezaki, member of the Silk Road Ensemble, featured in a new documentary being released nationwide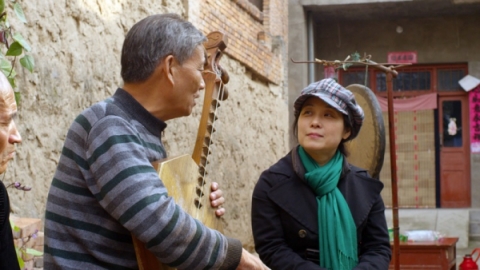 Kojiro Umezaki, member of the Silkroad Ensemble, featured in a new documentary being released nationwide.
The Music of Strangers is a documentary film featuring members of the Silk Road Ensemble and opens Friday, June 10. The film will be showing throughout the summer at theaters nationwide.
ABOUT THE FILM
"The intersection of cultures is where new things emerge." - Yo-Yo Ma, cellist and founder of the Silk Road Ensemble
Over the past 16 years, an extraordinary group of musicians has come together to celebrate the universal power of music. Named for the ancient trade route linking Asia, Africa and Europe, The Silk Road Ensemble, an international collective created by acclaimed cellist Yo-Yo Ma, exemplifies music's ability to blur geographical boundaries, blend disparate cultures and inspire hope for both artists and audiences.
The Music of Strangers: Yo-Yo Ma and the Silk Road Ensemble, the latest film from the creators of the Oscar-winning documentary 20 Feet from Stardom and the critically-hailed Best of Enemies, follows an ever-changing lineup of performers drawn from the ensemble's more than 50 instrumentalists, vocalists, composers, arrangers, visual artists and storytellers as they gather in locations across the world, exploring the ways art can both preserve traditions and shape cultural evolution.
Blending performance footage, personal interviews and archival film, director Morgan Neville and producer Caitrin Rogers focus on the journeys of a small group of Silk Road Ensemble mainstays from across the globe to create an intensely personal chronicle of passion, talent and sacrifice. Through these moving individual stories, the filmmakers paint a vivid portrait of a bold musical experiment and a global search for the ties that bind.
The Orchard presents, in association with Participant Media, HBO and The Silk Road Project, a film by Morgan Neville, The Music of Strangers: Yo-Yo Ma and the Silk Road Ensemble. The Producers are Morgan Neville and Caitrin Rogers. Executive producers are Participant Media's Jeff Skoll and Diane Weyermann, The Silk Road Project's Laura Freid, Cristin Canterbury Bagnall, Motto Pictures' Julie Goldman, and HBO's Sheila Nevins. The Director of Photography is Graham Willoughby. The Editors are Jason Zeldes and Helen Kearns.
FILM TRAILER
The film opens at the Landmark in Los Angeles (https://www.landmarktheatres.com/los-angeles/the-landmark) on Friday, June 10. It opens the same day in New York at the Angelika.
Kojiro Umezaki will be doing a Q&A with Morgan  Neville at the first two LA screenings on June 10 and 11 (screening starts at 7:40pm).
The film opens on Friday, June 17, 2016 at the Regal University Town Center 6 across from the UCI campus.
Visit the film's website
Here's a link to the full list of theaters