Second Year MFA Review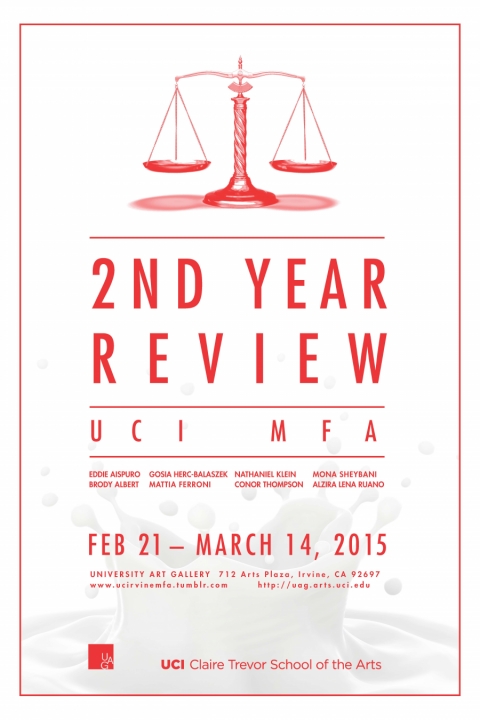 Second Year MFA Review
February 20 - March 13, 2015
Opening Reception Saturday, Feb. 21, 2:00 -5:00 pm
The University Art Gallery presents the Art Dept. MFA 2nd Year Review
"See the little creatures sitting neatly dressed in homespun cotton… frequently reviewing their lessons in order to be ready." (Panoplist, 1808)
See the little creatures 2nd year UCI MFA candidates sitting neatly dressed in homespun cotton… frequently reviewing their lessons art, in order to be are they ready?
Artists: Eddie Aispuro, Brody Albert, Gosia Herc-Balaszek, Mattia Ferroni, Nathaniel Klein, Conor Thompson, Mona Sheybani, and Alzira Lena Ruano.
 
University Art Gallery and Room Gallery
Gallery Hours: Tuesday - Saturday from 12:00 – 6:00 pm
Free Admission. Public is Welcome. 
http://ucimfa.tumblr.com/
http://studioart.arts.uci.edu/graduate
Dates:
February 20, 2015 - 12:00 pm
February 21, 2015 - 2:00 pm