New Cuts, K8 Hardy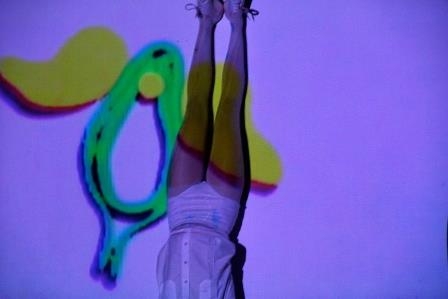 New Cuts
January 10 - March 20, 2015
Curated by Rhea Anastas
Opening Reception Saturday, Jan. 10, 2:00 -5:00 pm
K8 Hardy's performances using the body directly are experienced in New Cuts through videos and other creatively-inflected documents. The exhibition pairs the two major works Beautiful Radiating Energy (2004) and New Report: Morning Edition (2005), a collaboration between Hardy and Wynne Greenwood, with other contemporaneous examples of Hardy's activity. Curated by Rhea Anastas. 
Contemporary Arts Center Gallery
Gallery Hours: Tuesday - Saturday from 12:00 – 6:00 pm
Free Admission. Public is Welcome.
In the live work Beautiful Radiating Energy (2004), K8 Hardy performs and shouts, her exercising body cross-cutting a video collage. In New Cuts, this performance is experienced in video and in other creatively-inflected documents and paired with New Report: Morning Edition (2005). New Report: Morning Edition is a real report on objectification by the camera and language of Hardy's with a collaborator, Wynne Greenwood. New Cuts is an exhibition of performative activity by Hardy and an exhibition about the viewer's viewing. For Hardy, a videomaker and zine producer, this period in New York from 2002 forward was marked by intensity: Hardy both developed her embodied work in live performance and experimented with the nonsovereign space of coproducing with others. Those others included artist Klara Lidén, with whom Hardy staged Beautiful Radiating Energy; the musician and videomaker Greenwood, herself touring Tracy + the Plastics at the time; the queer and feminist journal and events program LTTR (with Ginger Brooks Takahashi, Ulrike Müller, Emily Roysdon); and Reena Spaulings, the project of artists who mutate and hybridize the gallery form.
In conjunction with New Cuts, the University Galleries presents a conversation between Rhea Anastas and Litia Perta
Monday, February 2nd, 4-6PM, CAC Gallery
K8 Hardy, Beautiful Radiating Energy, 2004. Performance still,
Pilot conference, Chicago, 2004.
Courtesy the artist and Reena Spaulings Fine Art, New York
Dates:
January 10, 2015 - 12:00 pm
January 10, 2015 - 2:00 pm
February 2, 2015 - 4:00 pm