INTERFACE: Alternate Reality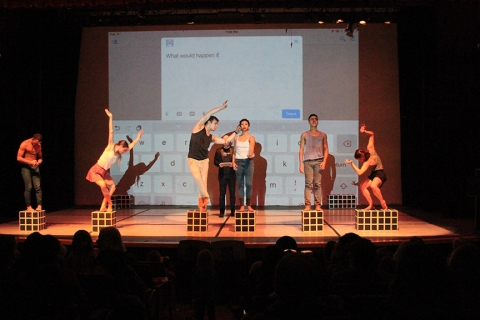 INTERFACE: Alternate Reality
Created by Chad Michael Hall and John Toenjes
February, 12 & 13, 2018
7:30 pm
Experimental Media Performance Lab (xMPL)
Inspired by current advancements in augmented reality and a childhood obsession with Edward Packard's Choose Your Own Adventure gamebook series, INTERFACE: Alternate Reality sends audiences on a physical, intellectual and emotional journey through the Contemporary Arts Center utilizing their smartphones and personal choices to decide how the piece unfolds. Combining site-specific dance, new media, interactive digital video and audio designs, and John Toenjes' and Tony Reimer's experimental MoSho app for iPhones and Androids, ITF:AltR combines organic spaces and places with cyberspace and virtual and augmented realities, creating an immersive and haptic theatrical experience.
ITF:AltR is the fourth installment of Chad Michael Hall's unique brand of "Cyberdance Theater" with collaborators John Toenjes and Tony Reimer.  First conceived and developed at UCI, INTERFACE productions have since been presented in multiple venues on tour and most recently in the Krannert Center for the Arts at the University of Illinois.
A 2-week residency in the xMPL will culminate in two "work-in-progress" showings of the content generated free to the CTSA, UCI, and local Irvine communities.
Free event; reservations required. RSVP here.
For more information, visit http://21c.arts.uci.edu/emergence

Institute for 21st Century Creativity
Art + Technology + Design
Dates:
February 12, 2018 - 7:30 pm
February 13, 2018 - 7:30 pm